You may not always need an electrician in Homebush to undertake electrical repairs. However, doing your own electrical work may not be as easy as it seems. We often forget how dangerous electricity can be because electrical systems and appliances are designed to protect the end-user.
Studies show that most people are tempted to tackle small electrical DIY jobs at home. It could be a mistake. You could injure or kill yourself, your loved ones, or even start a fire. And since the government discovered that nearly 1500 Australians were hospitalised in the early 2000s with electrical-related injuries, they've enacted strict electrical home repair regulations. Undertaking your own electrical work could also see you paying a six-figure fine with a 3-year jail term in case your DIY electrical work fails and causes injuries or death. Therefore, it is always a good idea to call in a qualified electrical technician when considering electrical changes.
Still, there are a few jobs you can do without hiring a licensed electrician. In this post, we'll tell you about the electrical jobs you can do yourself and list those that need a competent electrician in Homebush.
DIY Electrical Jobs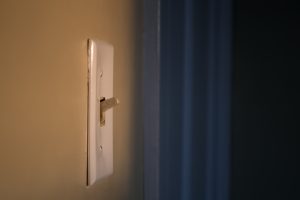 When considering new electrical work, it should meet the recommended safety regulations. This means that most of the electrical work you may want to try might require an experienced electrician to perform.
But are there any electrical jobs that you can do around the home? You are allowed to undertake some DIY tasks, such as:
Minor Repairs and Replacements  
Usually, these are the primary jobs you can undertake yourself if you wish to handle electricity. Therefore, you might want to move or change ceiling lights, light switches, or sockets. You may even consider replacing any damaged or worn-out wires.
In the same way, you are allowed to install more lights, switches, or sockets if your room doesn't have enough of them. This is especially beneficial for buildings where components like sockets and switches are in inconvenient places. It is also vital where you don't have sufficient plugs for your family to use comfortably.
However, remember that you won't be allowed to undertake any DIY electrical work in the kitchen or bathroom. You must hire a local electrician to complete a kitchen renovation or remodel your bathroom. The reason is that these areas are likely to have water, which requires specialised expertise.
Here are some electrical changes you can undertake at home without professional assistance.
Replacing a Fuse – It is one of the relatively small tasks you can undertake without asking for an electrician's help. If you've never replaced a fuse before, make sure it is the right one because they come with different amperages. You don't want to exceed the fuse's rating. And remember to turn off power while changing it.
Replacing Your Blown Lightbulbs – You may not have to wait for an electrician to change a blown lightbulb because they are easy to replace. However, ensure you first turn off the switch before changing your blown bulb. To do that, hold the bulb and gently push it up while turning it anti-clockwise to release it from the socket. After that, twist your replacement bulb in. The riskiest part of replacing a lightbulb is probably making sure you do not fall off the ladder.
Replacing Your Smoke Detector's Battery – Whether hardwired or mains-powered, your smoke detector has batteries. These batteries will produce sound when they need to be changed as they lose power over time. You are allowed to replace this battery, which serves as a backup in the event of a power outage.
Installing Low-voltage Garden Lights – Just about every outdoor lighting is low-voltage. This makes it relatively safe and easy for any handy homeowner to fix. It's a simple process. Simply lay the cabling and connect it to a transformer. Then, switch them on to see the shiny LED lights transform your outdoors.
Additional Do-It-Yourself Electrical Tasks
The law in Australia permits you to do other DIY jobs, including:
Installing pond pumps
Replacing a washing machine's drive belt
Fitting an electrically run wall oven but not connecting it
Creating openings for air conditioning but not installing the unit yourself
Note that you will need a competent electrician for most jobs.
Notifiable and Professional Electrical Tasks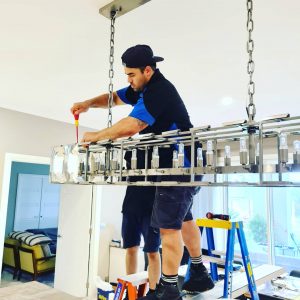 Notifiable electrical work is a job that will involve installing new circuits or replacing fuse boards, after which it will be safety-inspected. A non-qualified handyman cannot complete notifiable work. Usually, people will get a qualified electrical contractor like Saunders Electrical Group for this work because it is complex and dangerous.
Electrical as a whole should never be a DIY project because electricity is risky. If you are under-qualified, unskilled, and without the tools to handle electricity, it can be costly and even cause an electrical fire or injury. We're not saying that you can't change your own lightbulbs, but you may want to get our certified residential electrician in Homebush for most jobs. Some of the projects that are better left to our experts include:
Air conditioning repairs
CCTV set up and installation
Ceiling and ventilation fans
Circuit breaker upgrades and replacement
Data and telephone wiring
Electrical rewiring
Home theatre wiring and sockets
Interior and exterior lighting
LED/Fluorescent energy-efficient lighting
Powerpoint relocation
Smoke alarm replacement and installation
Surge protection
Switchboard upgrades and replacements
You can still do notifiable work if you're a handy homeowner. However, you must get a green light from the local authorities. Moreover, a professional electrician must check and certify the work.
As you can see, it is a time-consuming and costly process. Hiring a licensed electrician is always the right thing to do even if you understand the electrical project at hand. Having a professional take on the work gives you peace of mind. You do not have to worry about improperly fixed outlets or a new light fixture that wasn't wired properly.
Know When You Need a Qualified Electrician in Homebush
You can try doing electrical jobs on your own. Nevertheless, if you are not an expert, you could be risking electrical safety around the home. Whatever electrical work you want to undertake without hired help, you must take your time and follow safety precautions. We cannot stress this enough. It means that you must double-check everything you do. You may even consider working with a friend who will ensure you don't make silly mistakes. Overall, we recommend hiring a licensed electrician so you have complete peace of mind.
When you need residential or commercial electrical services, you can count on the A-grade qualified professionals at Saunders Electrical Group. We've been providing high-quality services for decades, and you can trust our electrician in Homebush to deliver the highest standards that come with a lifetime workmanship warranty. Call 1300 993 560 to book with us and get a free safety inspection.