Looking For an Electrician Near Me To Complete a Kitchen Renovation? Renovating your home can be an exciting undertaking, but it can also be overwhelming if you do not have the right contractors to help you complete the job. 
Many processes involved in kitchen renovations need an experienced contractor who understands the job's technical aspects, such as wiring plans, flexible connections, appliance and outlet placement, and lighting options. These jobs are beyond the capabilities of a layperson. 
If you're renovating your kitchen, you also likely have a whole host of ideas that only a professional can make come true. You may find yourself searching on Google for an experienced residential "electrician near me" to enable you to realise your dream, and you would be right to do so.  
In this article, we look at the main reasons why you need an electrician to help you with your kitchen renovation. We also explore what factors you need to consider to ensure that your kitchen has the professional appearance, functionality, and safety you deserve. 
Top Reasons You Need an Electrician When Renovating Your Kitchen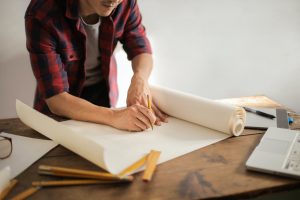 Lighting
Lighting is an essential component of kitchen renovation and design. You'll need to have a well-lit room to enable you to cook, wash, and maneuver correctly. 
Electricians can advise on important aspects of lighting such as: 
15-amp circuits for light branch circuits

Three-way switches that allow you to access the light switch before entering a room

Two-amp circuits for ceiling fan outlets 

Uniform lighting layout for optimal light coverage and to avoid frequent tripping
Kitchen Wiring
You will need a professional and experienced residential electrician to complete your kitchen wiring for ultimate safety. Doing so gives you the peace of mind of knowing that you do not have potential electrical hazards lurking in the wiring. 
Modern appliances like microwaves, coffee machines, stoves, cooktops, and other high-ampere appliances increase a home's electrical capacity. They need the proper wiring to avoid electrical fires and circuit tripping. 
Electricians are essential in advising you on:   
Ensuring that only the three-prong outlets are installed to avoid electrical shocks

Ensuring that the main service panel is at least 100A

Installing dedicated circuits in the service panel for each significant appliance

Installing GFCI and AFCI outlets that shut themselves down to prevent electrical fires and shocks

Spacing electrical outlets 6 – 8 feet apart throughout the kitchen and house to eliminate the need for extension cords which are potential fire hazards

Upgrading and rewiring the main service panel to accommodate any new appliances
Countertop and GFCI Outlets
When placing your kitchen outlets for countertop use, you must consider the short 2-feet cords that appliances like coffee pots, griddles, and kettles come with to provide enough space and accessibility. There should be no more than four feet between countertop outlets.
You should also place an outlet within two feet of each side of the sink for quick accessibility. 
Ensure that all the outlets are ground-fault circuit interrupters or GFCI outlets or circuit breakers to avoid electrical shock to you and your family if the outlets come into contact with water.
Only a qualified electrician can advise you on the above requirements. 
Kitchen and Small Appliance Branch Circuits
Appliance branch circuits supply electrical power to one or more outlets connected to those appliances. For this reason, they are never connected to lighting fixtures.
Therefore when designing your kitchen, ensure that your dining room and kitchen, including the countertop outlets, are supplied by at least two separate 20A circuits. You also may need to add more outlets and circuits for convenience. 
What to Consider When Completing a Kitchen Renovation
Kitchen functionality – think about your kitchen layout and how you want your kitchen to function. Would you like a kitchen island or would you rather have more cabinet space instead? Is your oven going to be built-in or stand-alone? Discuss these factors with your designer before you begin the renovation process.

What appliances will you need in your kitchen? The number and power of your devices will also determine your electrical load. Steam ovens, fridge-freezers, coffee makers, and cooktops are all essential, and you'll need to incorporate them into the design plan before you begin renovations.

What type of lighting options will you install? Do you have enough natural lighting for daytime use, or will you need to install extra lighting and circuits?
Your kitchen designer and electrician will need to know ahead of time.
Schedule Residential Electrical Services with Saunders Electrical Group Today
If you're considering renovating or upgrading your existing kitchen and are busy online with countless "electrician near me" searches, reach out to our qualified residential electricians today.
Our A-grade electricians are fully licensed and insured to handle your kitchen renovation, having already helped thousands of Sydney customers with their kitchen upgrades.  You can count on them to install all electrical wiring, connections, appliances, and outlets to code, and help you to determine the best electrical layouts that meet your design needs.
Contact our team online or call 1300 993 560 to schedule an appointment for an in-depth consultation today.